Investment thesis
Endor (E2N:MU) is a premium simulation racing brand that has been growing revenues at a 30% CAGR over the last five years. As the dominant premium brand with about 40% market share, Endor stands to capitalize on the rising demand for sim racing. The industry is poised to expand as sim racing gains legitimacy with motorcar sports organizations coupled with the continued immersion of games. We believe Endor is trading at a discount to intrinsic value of at least 30%.
Business Background
Simulation racing (sim racing) is an industry that has grown 400% over the last five years as its legitimacy and popularity has increased. Sim racing is an extremely competitive e-sport and is becoming as immersive as the real sport; Figure 1 below shows the quality of the racing games being released today. The industry racing is at an inflection point as OEMs and racing organizations begin to participate for primarily two reasons: larger share of mind with younger generations, along with sim racing becoming a significant revenue generator. Although COVID helped accelerate this trend, we do not see sim racing popularity abating as it rides the technology S curve and becomes more immersive. Unlike most sports and their respective video games, sim racing is similar to the motorsport. Current F1 champion Max Verstappen takes sim racing as seriously as the professional sport. This is because sim racing helps drivers "get more reps" to help with track memory and reaction times. As sim racing becomes more immersive, more players and organizations will be attracted to it. For more in-depth analysis on the industry, we have written a piece here.
Endor (the brand name is known as Fanatec) is the dominant premium brand in the sim racing industry and has about 40% dollar share (by unit sales it has about 15% market share). It is run by founder and owner-operator Thomas Jackermeier – who owns 50% of the company. He founded Endor in 1997. Endor started by manufacturing various game controllers, however by 2000, Jackermeier changed the direction of the company to focus primarily on developing premium sim racing equipment. Jackermeier's vision then and now is to converge the sim racing world with motorsports. And he wants Endor's products to be good enough to span both worlds. These products range from racing steering wheels and gear shifts to pedals and direct drives. These are an ocean apart from typical game controllers. Regular game controllers are commoditized products that lack fidelity and tactility. The extreme degree of mechanical and electrical fidelity of sim racing equipment enables a more immersive experience.
Endor has built out a "sticky" ecosystem of products. As Endor's devices are not compatible with competitors' systems, once a customer enters the ecosystem, they are locked in with sunk costs. Endor has three tiers of quality: Podium, Club Sport, and CSL. Podium is the premium end, Club Sport is the middle tier, and CSL is the "entry-level" grade. All tiers are compatible with each other allowing customers to mix and match different equipment. The quality and ease of use of Endor's products have resulted in an exceptionally devoted fan base with new products usually sold out within minutes. The demand for their products along with the growth of the industry has resulted in a 45% sales CAGR over the last five years, shown in Figure 2.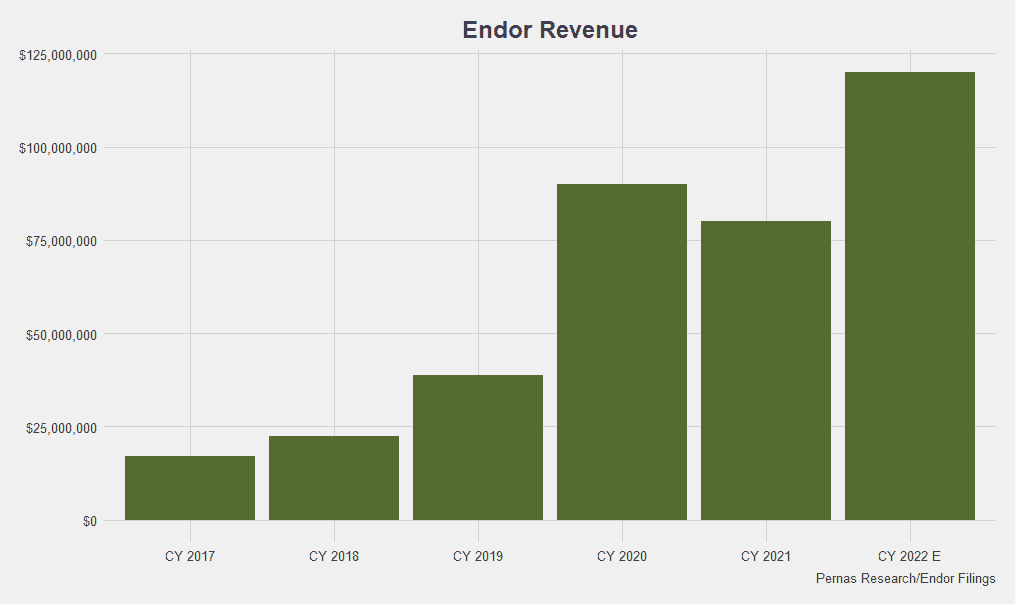 Branding
Along with having the largest market share, Endor is also the largest sim racing advertiser and marketer in the motorsports industry. Endor has multiple licensing agreements with racing organizations (F1, Nascar, and World Rally Sports), along with automotive OEMs (BMW, McLaren, Bentley, and Porsche). Endor is the official sponsor and hardware supplier for most e-sports series and tournaments. Its equipment has reached the point that its racing wheels are being used in actual motorsport races. Endor has partnered with BMW and Bentley to manufacture their GT racing wheels and the World Rally champion used a Fanatec wheel in the actual race. Here is what Jackermeier wrote about the M-Sport Rally Team partnership with Endor.
"Working with M-Sport to include Fanatec-made parts in the Ford Puma Hybrid Rally1 for the upcoming WRC season is another example where the line between motorsport and sim racing is becoming harder to define. …If a nine-time World Champion like Sébastien Loeb thinks our product is a vital part of the car, then we know we are on the right path." – Thomas Jackermeier, CEO Endor
This branding is crucial given the similarity between motorsport and sim racing. It is hard to overstate the importance of sim racers being able to use the same equipment used in motorcar sports. The racing wheel is where Endor has been directing its operational efforts as it is the most visible piece of equipment in a race, and gamers typically buy multiple wheels per direct drive. (A direct drive is one where the steering wheel is directly coupled to the motor shaft whereas a belt drive connects the torque from the motor to the wheel via a belt; the direct connection allows for a much more tactile and responsive piece of hardware. As one gamer wrote, "it is the same difference as lightning vs a lightning bug.") Although competitors have caught up in the direct drive space, Endor is still far and away the leader in the wheel category with their offerings of wheels almost 2x that of the next competitor's (Thrustmaster) and 7x that of Logitech! Being able to provide a wide selection of racing wheels is a large advantage over competitors as typically sim racers buy multiple wheels; the more built out the ecosystem the more likely a sim racer will go with it.
Strategy
Endor has been increasing its dollar market share in the sim racing industry, shown below in Figure 3, though this has been by primarily focusing on the premium end of the market. They have now begun efforts to increase share in lower-tier markets are gaining traction. The lower end of the market represents a much larger user base – about 6x the size of the user base Endor typically targets. Given the strength of Endor's premium brand, the option to create lower-end products appealing to a wider user base has always been a potential source of revenue. By attracting these customers, they would thenlock them into their ecosystem. Endor entered the lower mid-tier space in August 2021 by launching a $350 Direct Drive, putting it within striking distance of Logitech and Thrustmaster Belt Drives. The choice between the two options was an easy decision for customers and marked an inflection point in demand for Endor.
The good news was customers loved it; the bad news was they loved it too much. Demand quickly outpaced supply and Endor was plagued by supply chain woes. The entry-level direct drives are currently sold out until the end of Q1 2023. Competitors have realized the looming existential threat and positioned themselves accordingly. Logitech and Thrustmaster in response came out with their first-ever direct drives (roughly five years after Fanatec first introduced direct drives). However, it will be difficult for them to match the brand and ecosystem of Fanatec. Choosing Fanatec is akin to choosing an iPhone. It is a superior piece of engineering that is also plug n play; customers are paying for the convenience (equipment is compatible with most game consoles), the ecosystem, and the quality. Endor has been managing the tension well between being a premium brand and not diluting the brand by offering cheap entry-level options.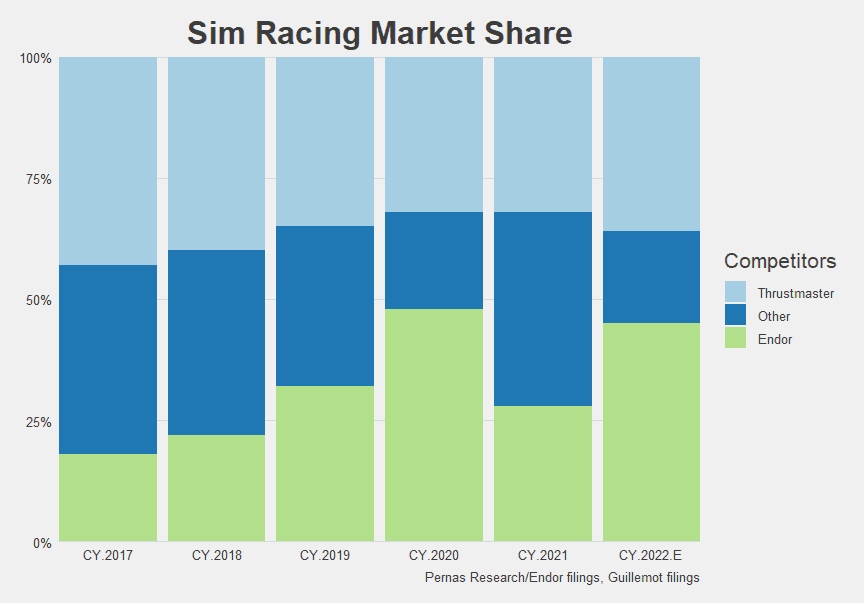 Why the Discount?
Endor is listed on the Munich Exchange and is illiquid. It trades about 4k shares ($50k) per day.
Due to macro uncertainties around consumer spending, the verdict is still out on whether sim racing will fall victim to a precipitous drop in demand. Supply chain issues have further confounded the situation by making it appear that demand is falling.
Valuation
The continued growth and legitimization of e-racing will continue as racing organizations and OEMs further lean into the space, which in turn will further attract larger numbers of gamers. Endor will also benefit from the user base of Thrustmaster and Logitech as they upgrade to more premium gaming equipment – roughly a 1mm user base. Although only a minority of these users will convert, this will still represent a large revenue stream for Endor. On the technology side, cloud gaming will continue to enhance the immersion of sim racing along with lowering the activation energy needed to play CPU-intensive realistic games such as Forza Motorsport. The latest game edition is coming to X-Box in June 2023.
With the e-sports ecosystem rapidly growing in popularity, a large sim-racer user base upgrading, and Endor moving down the offering chain to more mid-tier and entry-level products, Endor will continue growing at a mid to high teen annual rate. We believe Endor can compound earnings at a minimum of a 15% CAGR for the next five years with EBIT margins trending up to 20% as fixed cost dilution increases profitability (Endor earns gross margins of 50%). Endor will be generating around €30 mm in FCF in 2027 and will make almost € 100mm in FCF in the interim. With Endor at around a €200mm market cap with no debt, we believe Endor is trading at a discount of at least 30%.
Risks
Endor has been dealing with supply chain issues since 2020. Currently, it faces a semiconductor shortage that reduces the manufacturing capability of its Direct Drives. With continued issues, customers will likely go with substitutes which would be detrimental as those customers then get locked into other ecosystems. We expect that past April 2023 these supply chain issues will abate as Endor has secured chips to more than match production for the short term.
Motorsport Organizations and OEMs may begin to take larger license/contract fees as sim racing gains in popularity. In 2023, sim-racing sales will be about $300mm while the F1 organization will bring in about $2.5B. Although not a big risk currently, as sim racing continues to expand, motorsports organizations will leverage their brands to gain a larger share.
Endor is an expensive premium brand and a recession would likely cause gamers to remain with their equipment for longer, stretching out the upgrade cycle that is inherent to Endor's business. Typically, about 30% of Fanatec's revenues come from these customers.
INVESTMENT DISCLAIMERS & INVESTMENT RISKS
Past performance is not necessarily indicative of future results. All investments carry significant risk and all investment decisions of an individual remain the specific responsibility of that individual. There is no guarantee that our research, analysis, and forward-looking price targets will result in profits or that they will not result in a full loss or losses. All investors are advised to fully understand all risks associated with any kind of investing they choose to do.